A lot can be learnt from the socio-cultural aspects of a community through the food, language and clothing patterns. Clothing and textiles have been important in human history and reflect the materials available to a civilization as well as the technologies that had been mastered. The significance of the finished product reflects their culture, social standing and community aspects. The evolution of fabrics can be traced through the historical evolution of a region.
The present day Maharashtra state boasts a long history of empires and political prowess and its impact on the local culture and people. Along with the advents of rulers and their empires came a variety cultures deeply rooted in memory and also in the particular ways of life. There has been a huge influence on the culture of food, clothing, music, architecture and other intangible aspects of communities. Maharashtra has a history of being ruled by the Sultanates, the Mughals and the Marathas and Peshwas. These empires created patronage in terms of industries, artisans and crafts. Fabric and handloom is an important aspect which was transported to this region and became indigenous through time.
In this article, we will discuss the handlooms which have developed during the reigns of these empires and also which have indigenous origins based on the availability of materials and communities and their occupations. The types of handlooms in the state vary according to geography, climate, socio-cultural and economic aspects as well as the historical events which has shaped the cultural landscape.
1.PAITHANI
Region
Aurangabad
GI Status
Protected
Historic Links
Roman, Later Peshwa
Period Of Origin
17th Century CE
Materials
Silk
Loom Type
Fly shuttle, pit loom
Design Pattern
Oblique square design, and a pallu with a peacock design
Brief Description
Cotton and silks woven in India were one of the principal trade items until the 20th century CE, with brocades, fine cotton and linen being exported along with spices and other items. The Paithani, originating from Paithan is one such handloom treasure purely woven in silk and Zari.
Evolution
The traditional Paithani saree is manufactured by hand in pure silk and dyed in traditional colours. Silk was originally sourced from Bangalore or Surat and zari was sourced from Gujarat. Preparation of silk, preparation of zari, dyeing and weaving was all carried out in Paithan with the traders from Paithan establishing guilds for weaving of sarees. This range of ancillary activities also influenced the urban form of Paithan.Trade records from the 2nd century BCE maintain mentions of the silks and cotton of Pratishthana (Paithan) being exchanged for Roman wines and olive oil. Paithan has thus been a flourishing trade and textile town since the 2nd century BCE, however the craft of the Paithani really flourished in the 17th century and further reached its zenith in the early 19th century before witnessing a slow decline over time till it was revived in the 1960s and 1970s.
Photo
Source: https://d218kegnl5or7l.cloudfront.net/wp-content/uploads/2013/06/Paithani-Fabric3.jpg
2. HIMROO
Region
Aurangabad
GI Status
Protected
Historic Links
Persian Origin; Deccan Sultanate
Period Of Origin
15th Century CE
Materials
Silk and Cotton
Loom Type
Throw Shuttle
Design Pattern
Geometrical and floral. Intricate creeper designs are popular.
Brief Description
Himroo is a type of extra-weft manufactured ordinarily from cotton and viscose rayon yarn on a cotton ground. It is also woven from silk yarn and gold thread on a silk ground giving it a satiny sheen. The design is decided at the outset since two kinds of threads are mixed. This handloom has historically been produced in Aurangabad. These fabrics denoted nobility and royalty in olden times.
Evolution
Kinkhwab was originally an elegant, heavy silk fabric with a floral or figured pattern known most for its butis and jals woven with silk as the warp and tilla as the weft, produced in China and Japan. Tilla in the earlier times was known as kasab. It was a combination of silver and tamba (copper) which was coated with a veneer of gold and silver. Kinkhwabs have also been known as 'Kimkhabs', 'Kamkhwabs', 'Kincobs', 'Zar-baft' (Gold Woven), zartari, zarkashi, mushaiar.
Photo
Source: http://www.himroofabrics.com/wp-content/uploads/2016/03/Himroo-Saree-Coton-and-Silk.jpg
3. KHANA
Region
South Maharashtra and North Karnataka
GI Status
Protected
Historic Links
Chalukyas and Adil Shahi Sultanate
Period Of Origin
15th Century CE
Materials
Silk and art silk (viscose) and pure cotton yarn, procured in the form of hank
Loom Type
Pit loom having no warp beam
Design Pattern
Geometrical honeycomb pattern, flowers, creeper, fruits and seeds.
Brief Description
Khana material is a historically and culturally significant fabric in Maharashtra and Karnataka. It is made with extra warp dobby figures and is always produced by keeping definite width and length.
Evolution
There is no definite historical evidence as to when the handloom weaving industry started at Ilkal and Guledgudd of present-day Karnataka state. But according to popular belief and circumstances, it might have been started in the 8th century CE when the Chalukya Dynasty was in power in this region.For social and religious celebrations and worship, it is a tradition to offer a sari and the khana blouse piece to the God. It is always folded in a typical triangular shape. The folding of the blouse piece in the said typical triangular shape was traditionally called as khanas. (S.F.Harlapur)
Photo
Source: https://cdn.shopify.com/s/files/1/2100/7285/products/IMG-20170717-WA0006_533aaab6-c0f3-448c-a679-c01d7c4159ca_1024x1024.jpg?v=1500273481
4. SOLAPUR CHADAR
Region
Solapur
GI Status
Protected
Historic Links
Peshwas; Industrial Revolution.
Period Of Origin
16th Century CE
Materials
Cotton
Loom Type
Jacquard machines
Design Pattern
Geometrical and floral pattens.
Brief Description
The cotton chaddars (known as Jacquard chaddars) manufactured in the hand-loom industry are known for their design and durability. These chaddars are popularly known as Solapur chaddars, and have a demand all over the country. The main centres of manufacture of these chaddars are: (Maharashtra State Gazetteer, , 1977)Tikekar Textile MillsChippa Weaving MillsMarda Weaving MillsGangji Weaving MillsKshirsagar Weaving MillsRapeli Weaving Mills
Evolution
The development of the handloom weaving industry in Solapur seems to have commenced in the regime of the Peshwas. The settlement of Madhavrao Peth (the present Mangalwar Peth) in Solapur sometime in the last quarter of the 18th century CE proved to be an attraction to many trading and artisan families from the Nizam's territory. These included some families of caste weavers such as Khetri, Momin etc. The improvement and extension of roads and the increasing availability of better and cheaper means of communications from the 19th century onwards also helped the handloom weaving industry in the district to thrive. The extension of the railway line up to Solapur in 1860 accelerated the expansion of the industry and the trade in handloom products of Solapur extended beyond the Deccan districts. As a result of this thriving trade, the number of handlooms in Solapur gradually increased. Relief to weavers in their own craft during the famines of 1896-97 and 1900-1901 enabled the industry to regain its pre-famine position. By 1903 the number of looms in Solapur again rose to about 7,850.
Photo
Source: https://images-na.ssl-images-amazon.com/images/I/616H2ud977L.jpg
5. GHONGADI
Region
Nandurbar
GI Status
Not Protected
Historic Links
Local shepherd community
Period Of Origin
16th century CE
Materials
Organic virgin wool
Loom Type
Pit loom
Design Pattern
Geometrical patterns.
Brief Description
This natural thermal blanket better known as Ghongadi is woven from the yarn made from the hair of sheep. Environmentally friendly, Ghongadi is an organic fabric that is usually used to make outdoor clothing but is also used to make blankets, socks and fine clothing.This fabric is used to make clothing that is warm and well insulated. When washed in cool water these blankets will never shrink, fade or have any of the colors run. Washing simply makes them softer and stronger.Ghongadi is a natural fibre that is both renewable and sustainable. It is also said to have medicinal healing properties if used as either a blanket or to sleep over, such as preventing blood clots, skin allergies and back pain.
Evolution
Nomads and shepherds in Southern Maharashtra developed this handloom.
Photo
Source: https://2.imimg.com/data2/FH/XI/MY-1600544/natural-thermal-warmer-ghongadi-500×500.jpg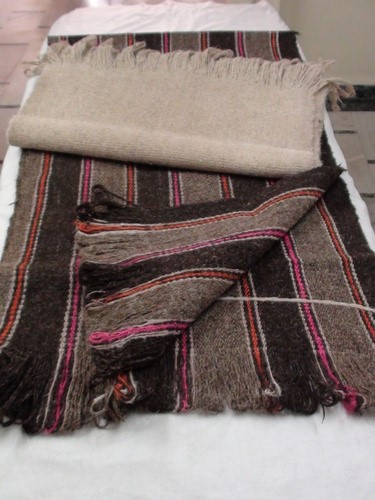 6. DHURRIE
Region
Vidarbha
GI Status
Not Protected
Historic Links
Maniyar community
Period Of Origin
16th century CE
Materials
Cotton, wool, jute, silk
Loom Type
Pit loom
Design Pattern
Geometrical patterns.
Brief Description
Woven cotton carpets or Dhurries (also known as Satrangi, shatrangji) have developed displaying vivid imagination and sensitivity to aesthetics. Dhurrie weaving is the interlacing of a set of vertical threads i.e. warp, with a set of horizontal threads, i.e. weft. It is always weft-faced, that is, the warps are never visible except at the fringes because they are completely covered by the wefts. In its simplest form, Dhurrie is a weft-faced plain tabby weave The designs are geometric, floral or even tribal. (getDetailsStates.php?type=maharashtra&subtype=Dhurries-Weaving, n.d.)
Evolution
Flat weave dhurries are woven on frame looms in several districts of Maharashta, which is one of the largest cotton-growing states of the country. The weavers of the Maniyar community weave three types of dhurries:plain flat weave shatranji,Jainamaaz, prayer mats with single or multiple prayer nichesChindi or rag dhurries.Cotton dhurries are used as floor spreads to set or sleep on and as prayer mats with the prayer niche placed in the direction of Mecca. (Aditi Ranjan, 2007)
Photo
Source: https://a.1stdibscdn.com/archivesE/upload/8555/49_13/4924_s__version_2/4924_S__Version_2_l.jpg
7. HAND BLOCK PRINTS FROM VIDARBHA
Region
Vidarbha
GI Status
Not Protected
Historic Links
Bavasar community
Period Of Origin
16th Century CE
Materials
Hand-woven silk or mill-made chiffon cloth, block orienting done by wooden or copper blocks.
Loom Type
NA
Design Pattern
Floral and animal designs
Brief Description
Hand block printing is extensively done in the Vidarbha area of Maharashtra. Bavasars (as the community is known) mainly use natural colors.The practitioners of this craft in Maharashtra are mainly migrants from other parts of India. The painting is done with delicately carved wooden and brass blocks. The cloth on which hand-printing is done is either hand-woven silk or mill-made chiffon cloth. The results are multi-colour designs in traditional patterns. The 'Tree of Life' motif is very widely used. Metal blocks as well as wooden blocks are used by Maharashtrian craftsmen to deck up the block print fabrics.The artisans engaged in this craft are called 'bavasars' in this state. Quilts, floor coverings and bed covers are the various products which utilize block print, wherein the dominant colours are red and black.Utilitarian items and those meant for decorative purposes employ the craft of block printing. Various kinds of motifs are crafted by the block print artisans of this part of India. (http://www.indianetzone.com/67/block_print_western_india.htm, n.d.)
Evolution
In India the main importance of the technique has always been as a method of printing textiles, which has been a large industry since at least the 10th century. (http://jameelcentre.ashmolean.org/collection/6/1272/1274, n.d.) Large quantities of printed Indian silk and cotton were exported to Europe throughout the Modern Period.In medieval times, cotton fabrics were a major export from India to all parts of the Indian Ocean – they were in demand from East Africa to Indonesia. Historical documents from Egypt and southern Arabia refer to the significance of this trade, and the Newberry textiles provide important primary evidence. As radiocarbon analysis of key pieces has shown, most of the collection dates from the 10th to the 15th century.Textile printing:The majority of textiles in the collection were block-printed with resist (to prevent chosen areas of the fabric from being dyed) or mordant (to fix the dye more firmly to the textile fibres), or a combination of both. However, there are also some fragments that were drawn by hand. The fragments can be grouped by colour into three sub-sections – blue and white, red and white (with one or more tones of red), and red, blue, and white. The dyes used were indigo for blue, and madder or Morinda citrifolia for red. By manipulating mordants, many variations of red could be achieved. The quality of dye used was remarkable, as much of it remains vivid to this day, even where much of the fabric has disintegrated. The patterns preserved are mostly vegetal and geometric, with some figural examples, showing both humans and animals.
Photo
Source: https://www.naturesblock.com/uploads/medium/813d27f079a967d0730c58bcd3d3d31c.jpg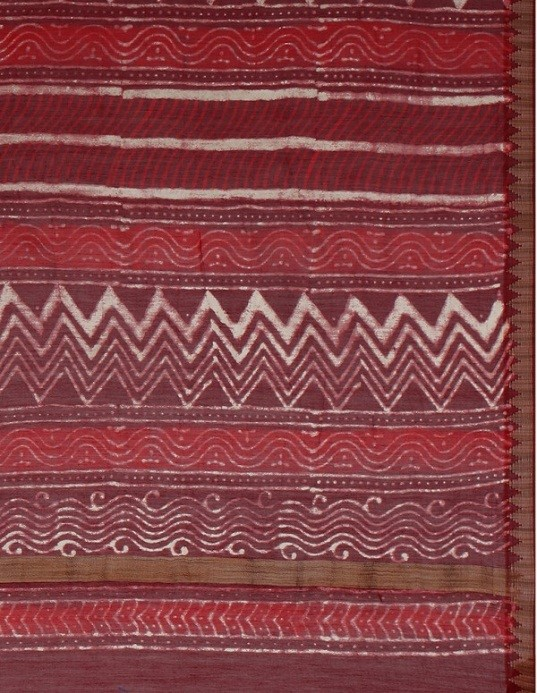 8. NARAYAN PETHI
Region
Solapur District
GI Status
Not Protected
Historic Links
Bavasar community
Period Of Origin
16th Century CE
Materials
Silk
Loom Type
NA
Design Pattern
Floral and animal designs
Brief Description
The Narayan Pethi saree is very popular as a traditional Maharashtrian saree, made of silk fabric. It is designed with a contrasting zari border, which is generally with rudraksha motifs.There is a distinct style attached to the Narayan Pethi sarees: the sarees have a checked surface design with embroidery and the border or pallu have intricate ethnic designs such as a temple. The borders and pallu of the Narayan Pethi silk saree are given a contrasted look with small zari designs.
Evolution
Going by historical records, in 1630 AD, the Maratha king, Chatrapati Shivaji traveled to the Narayan Peth region where he camped for a while. When he continued on his journey, a few weavers stayed behind.These were the weavers who started producing silk sarees with a distinct style of design which came to be known as Narayanpethi silk sarees. No wonder then, courtesy the weavers who migrated from the Maratha region to Narayanpeth, there is lot of Maharashtrian influence seen in Narayanpethi silk sarees. (https://www.utsavpedia.com/textiles/narayanpet-silk-cross-culture/, n.d.)The early weavers who settled down in the Narayanpeth region in the 17th century are the pioneers of this art. The skill has been passed down from generation to generation. The entire weaver community involved in this art is located only in Narayanpeth.
Photo
Source: http://indiansboutique.com/img/p/1/9/7/0/1970-thickbox_default.jpg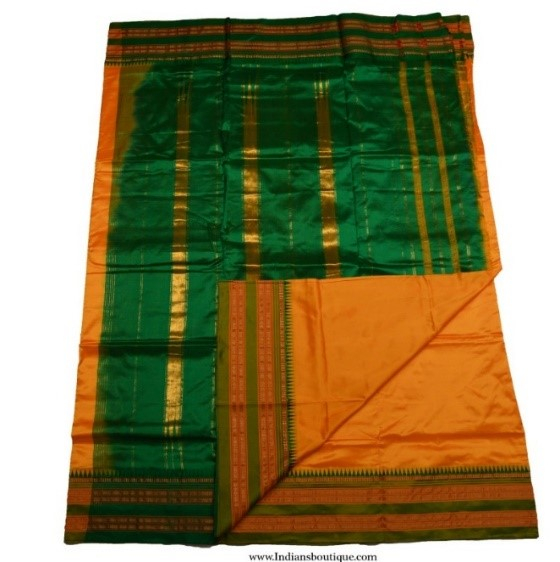 9. GANGA JAMUNA SAREE
Region
Solapur District
GI Status
Not Protected
Historic Links
NA
Period Of Origin
NA
Materials
Silk
Loom Type
NA
Design Pattern
Floral and animal designs
Brief Description
The double-colored Ganga-Jamuna saris are traditional Maharashtra saris. The main characteristic of this sari is the plain weaving with solid colours on either side – both sides of the sari can thus be worn. This sari is woven on double cloth principle with two shades of colour in the warp and weft. (http://www.craftandartisans.com/ganga-jamuna-saris-of-maharashtra.html, n.d.)
Evolution
NA
Photo
Source: https://4.imimg.com/data4/GO/KJ/ANDROID-37392570/product-500×500.jpeg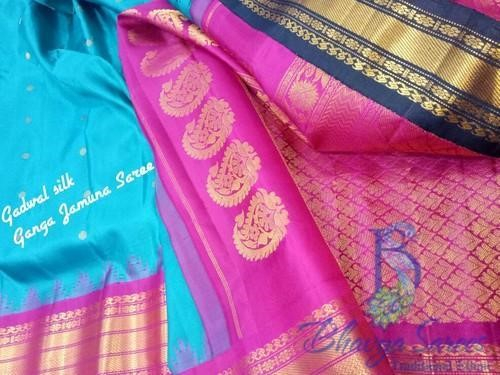 10. GANESHPUR-KOSA SILK
Region
Bhandara district, Nagpur
GI Status
Not Protected
Historic Links
NA
Period Of Origin
NA
Materials
Tussar silk
Loom Type
Pit loom
Design Pattern
Floral and animal designs
Brief Description
Kosa silk is the Sanskrit name of the desi Tusser. The varieties produced in tassar-weaving are mothe choukada, a design in big squares, and lahan choukada, a weave with smaller squares. The yarns woven contain kosa and mercerised cotton. The gunja salai has diagonal designs and the coloured lines used along with this are green, blue, or orange. (http://www.craftandartisans.com/textiles-of-maharashtra.html, n.d.)Produced mainly in India, Tussar is highly valued for its natural gold colour, which it inherits from the Antheria Paphia, Antheria Milita, and Antheria Proylei.
Evolution
As far as the history of the origin of Tussar silk is concerned, there is very little data regarding the period of its origin.
Photo
Source: http://4.bp.blogspot.com/-gxMCXfjCkVI/T-wIY6qp8QI/AAAAAAAAABI/Dh7Of4DzOv0/s1600/Pashmina+silk.jpg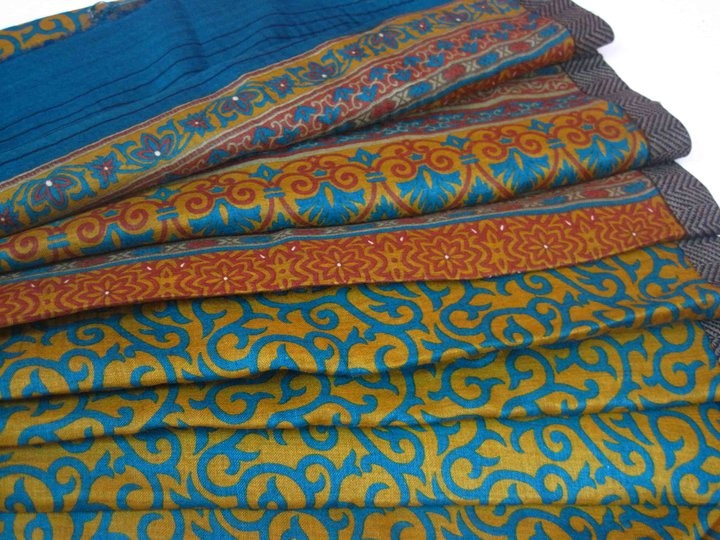 Glossary
Bai-Machhi: As the hooks of the dobby move the yarn are moved up and down to form a design in the border.
Bai: For design formation
Baibat: Heald for lifting of yarn.
Buti: Small motifs woven on the surface of the fabric
Chain: To operate the dobby
Extra weft: An extra weft weaving technique to weave motifs.
Hank: In the textile industry, a hank is a coiled or wrapped unit of yarn or twine (as opposed to both other objects like thread or rope as well as other forms such as in a ball, cone, bobbin, spool, etc). This is often the best form for use with handlooms, compared to the cone form needed for power looms. Hanks come in varying lengths depending on the type of material and the manufacture.
Jali: Lattice pattern
Kansari: For stretching the fabric to maintain the width.
Khana: Type of fabric with diamond pattern
Khilapatti: For division of the warp yarn
Khoot: For forming the design in the chain.
Khoot: The root foundation of the loom
Mangtha: The handloom.
Nachni: The hanging ropes, to operate the heald to dobby for forming design as well as shade.
Pavadi/Payachada: To operate the alternate baibhat (heald).
Payasara: It is in the pit and is used to lift the heald.
Peldanda: It is in the pit and is operated with leg for formation of shade.
Phirke: Bobbin ensuring the motion of weft yarns.
Pinda/Kakda: The stick on which the warp yarn is rolled over.
Pinjara: Dobby, used for design in the borders
Rool: For shifting of yarn
Rudraksha motif: Rudraksha, literal translation Shiva's eye, is a seed traditionally used as prayer beads in Hinduism. The seed is produced by several species of large evergreen broad-leaved tree in the genus Elaeocarpus, with Elaeocarpus ganitrus being the principal species.
Nari: Shuttle
Taat: Reed for weaving & wetting of cloth.
Thoon: The cloth roller
Wajan: Weight attached over Kakda/pinda for stress.
Zari: Shiny metallic yarn used mostly for patterns in dobby technique
Information Source : https://www.sahapedia.org/introduction-the-handlooms-of-maharashtra